Scottish Afternoon Tea
PLEASE NOTE:  For the fullest experience of our Scottish Afternoon Tea, we request that you make your reservation at least 24 hours in advance! 
Call us at (331) 901-5224.
< Back to the Main Menu
Served between 2pm and 5pm everyday.
Bookings only.
39 per person
Our Afternoon Tea consists of Dundee Cake, Black Bun Slice, Walker's Shortbread, Jaffa Cake, Scottish Tablet, Macaroon Bar Slice, McVitie's Mint Club Biscuit, Tunnock's Teacake, Iron Bru Jellies and Truffle Chocolate.  Afternoon Tea is also served with a selection of various savory items including 3 different finger sandwiches: Chicken Vol Au Vent, Mini Cheese Quiche plus out the oven Balmoral Scones with house made clotted cream and strawberry jam with fresh strawberries.
All served on Royal Albert Country Roses fine china, Gold plated cutlery and Crystal glasses.
Choose a pot from our Scottish selection of teas or ask for a pot of coffee
Edinburgh Earl Grey Tea
Delicately scented with Bergamot oil.
Scottish Breakfast Tea
A full-bodied brisk blend.
Edinburgh Thistle Tea
A light rich tea blended with thistle blossoms.
Brodie's Breakfast Tea
A rich blend for breakfast.
Edinburgh Heather Tea
A delicate blending of fine teas with heather blossom added.
Edinburgh's Scottish Blend Tea
A bright bold tea with a refreshing taste.
Brodie's Afternoon Tea
A simple mellow blend.
Taylors Decaffeinated Breakfast Tea
A bright and refreshing black tea.
Brodie's Edinburgh Tea
A perfect blend of black tea.

Teas with loose leaves
Heather Blossom, Highland Blended,
Classic Scottish, Scottish Breakfast.
Fruit teas
Raspberry, Mango Passion Fruit, Meyer lemon, Acai Berry, Strawberry Pomegranate, Lemon and Ginger and Peach Passion Fruit.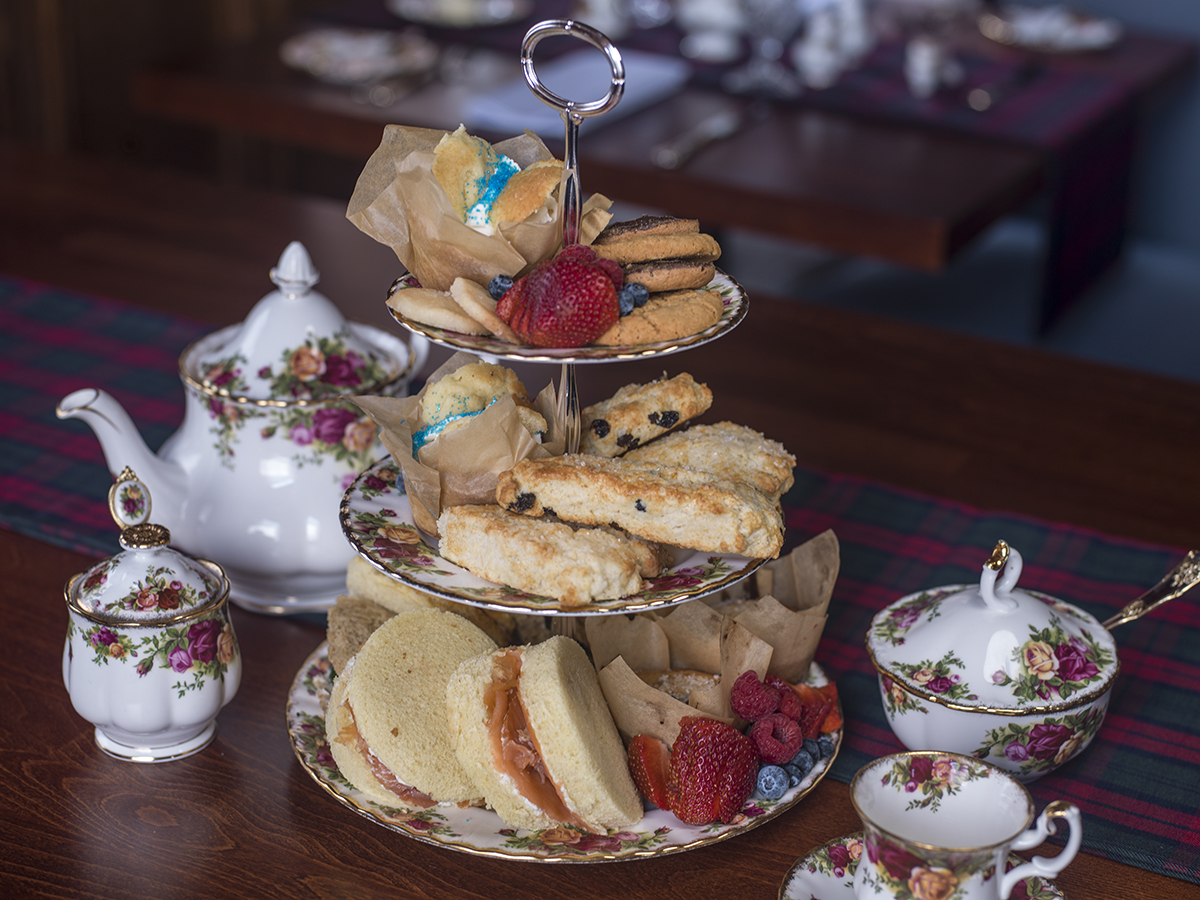 SOme Items may be substituted if not available
✻